Charlie Cox's Matt Murdock spares no one when it comes to delivering justice as a vigilante known as Dare Devil, by breaking every law there is. But he also leaves no stone unturned when fighting for justice in the court of law, as an attorney.
Now we might not be able to get into specifics of the cosplay and costume of Netflix's Daredevil, but we sure can talk about the spotless wardrobe of Matt Murdock when he is acting as a lawyer in daylight. Its class is by no means reduced by the mere fact that the character we are talking about is blind in the show.
Especially those classy-looking dark-red tinted, round glasses of Matt Murdock, after all, that pair of sunglasses has a huge cult-like-following of its own among daredevil fans and even from a style and aesthetics perspective.
Matt Murdock's Round Red Sunglasses
Now here is the thing about Classic Matt Murdock round glasses with Red OR Black lenses, and that is, they were custom-made for the Netflix TV show, literally, custom-sized and fabricated for actor Charlie Cox's face type and size. So the best we could do is recommend a couple of pairs which come as close to those used in the show as possible. So here are a couple of the good-quality glasses we found.
Murdock Glasses by Magnoli Clothiers
Well, Magnoli Clothier is a brand known for its quality clothing products, what its not very well known for is that they've successfully manufactured pair of sunglasses used by some of the most iconic Movie and TV show characters like Daredevil and Raymond Reddington.

Here is one High quality pair that's the most recommended by us, although at a steep price of around 90 dollars, they are made of impeccable quality polarized lens and composite metal frame. This pair looks EXACTLY like the one used in the show.

Another thing is, the that the misconception about the daredevil sunglasses in the show is that they are round, which isn't true, they are slightly oval shaped and that's the exact shape of these ones.

Now what I love about these is the option of dark grey/black lens as well as red ones. because as far as I've noticed, Matt also used black-tinted lenses in the show. So anyone who is looking into buying these can choose which color they want the lens to be.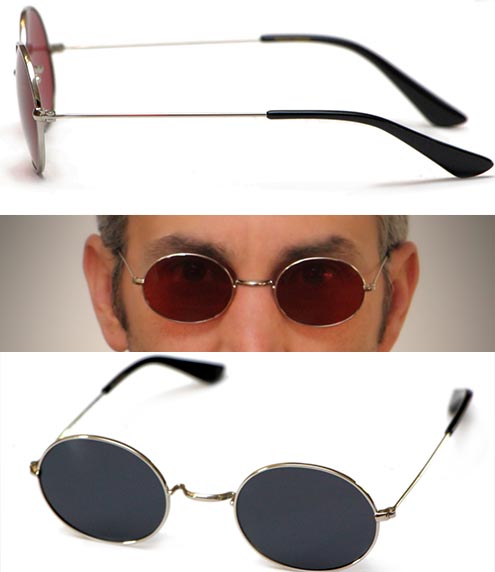 Now that we are done with the pair that looks exactly like the one featured in the TV show, let's move on to some affordable replicas and some expensive ones that look similar in style to those of Matt, but not exactly the same.
Morpheus Daredevil glasses with Gothic Red lens
Now these round glasses with the only option of Gothic red lens are a good option if you are looking to buy a pair at a relatively affordable price.

These feature a round, mirrored red lens, which provides no UV protection BTW, with a silver-plated metal frame which is sturdy enough. With the lens width of 45mm, these are best suited for relatively smaller face sizes.

At the price range of around 30 dollars, these are highly recommended.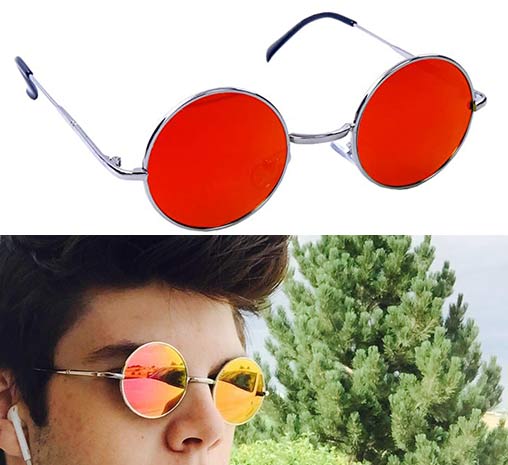 Ray-Ban RB3447 Round Metal Sunglasses
Now I know what you are gonna say: "but Alex these aren't the ones used in the show", and I would agree with you, these aren't.

See, not everyone wants the exact same thing, some people are just looking for a similar design and that's what these provide.

Ray-Ban is known for their Quality materials in sunglasses and this one is no different, these lens look round enough but with a classic styled shape to them.

Available in both dark grey, red and plethora of other colored lens/frame combinations, but red/black are the ones we are looking for. As with all Ray-Ban glasses, these cost money and these are no different either, costing around 150 USD.

What they do provide however, which no other pair of glasses provides in the list are the quality materials, bigger sized frames, with up-to 53mm UV protected lens, which means that people with bigger face shapes can also rock these.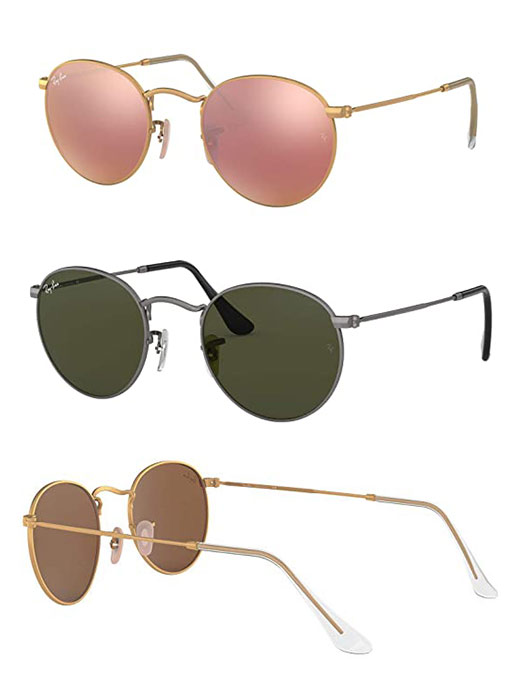 Daredevil Undercover Disguise Sunglasses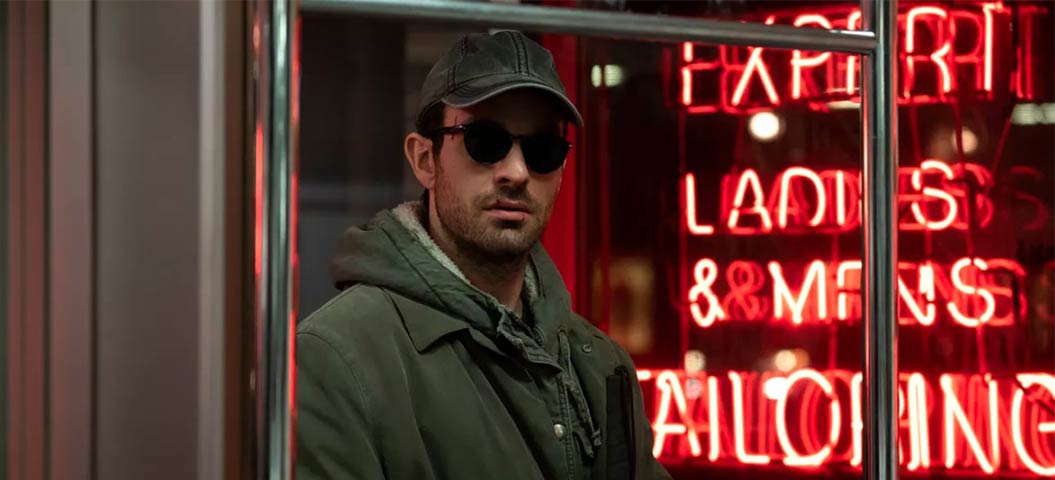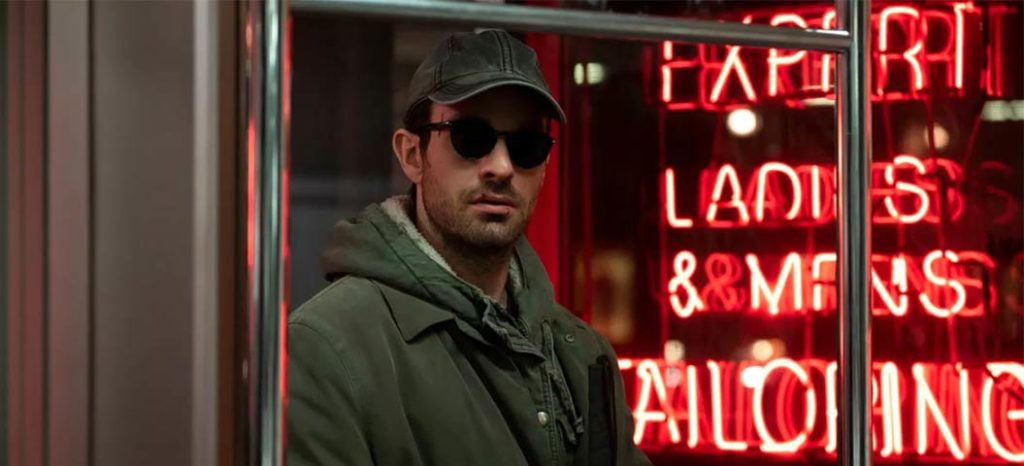 We've already established that in Netflix's daredevil TV show, Matt Murdock wears a few different pairs of sunglasses depending on how old Matt is or what the context of the scene is. In this particular instance, we are shown a different pair of sunglasses that Matt wears with a baseball cap when he is trying to disguise himself while investigating a case. The pair seems to be Persol's model number PO3152S, the pointy sides and the metal accents on the edges of the frame almost confirm it.
This pair of sunglasses from Persol is comparatively expensive with a hefty price tag of around 150 dollars. That price tag also brings some high-quality materials with it, the glass lenses are polarized, and the frame is made up of high-quality composite material.
The black frame and the greenish-black tinted glass lens (which are about 49mm in width) give it that classy vibe. If you are going for that look, make sure to pick them up.
Matt Murdock College Glasses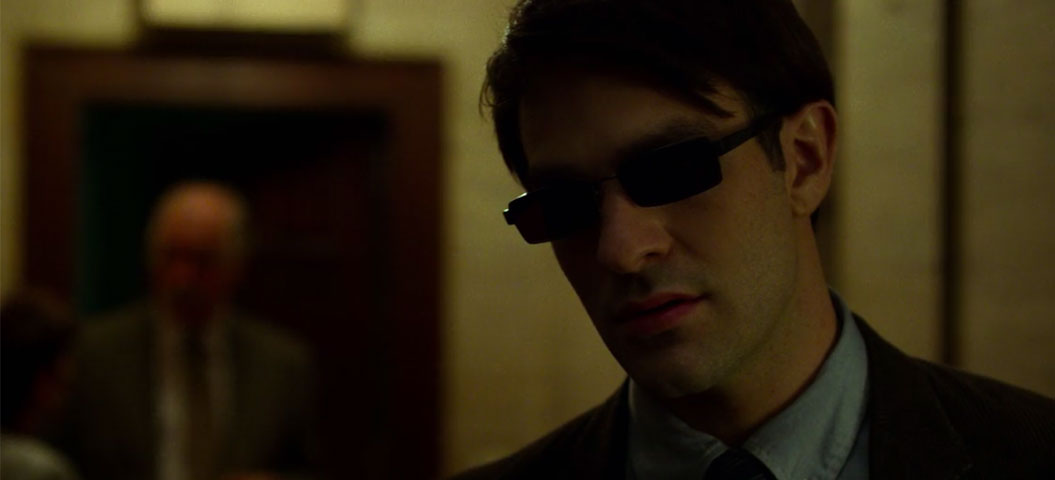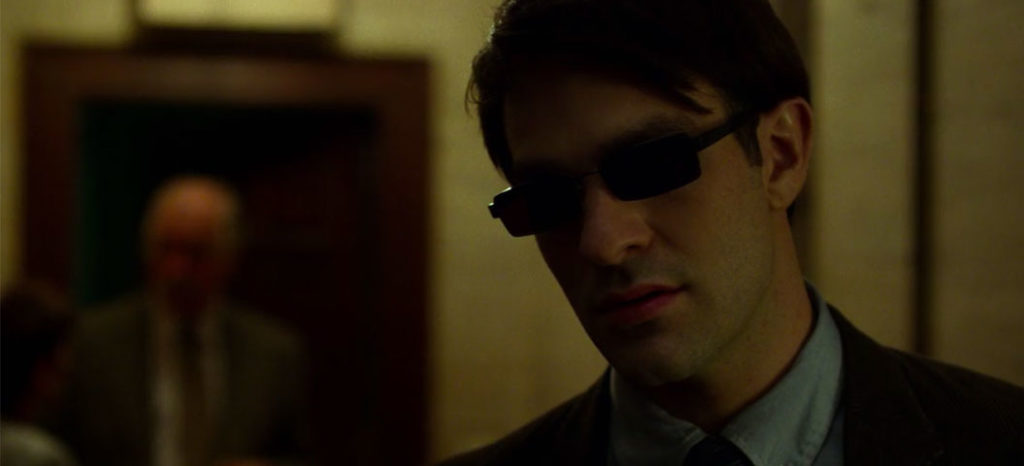 In the TV show, especially season 1, when Matt and Foggy are shown in their college years, Matt wears a pair of sunglasses. It's really hard to pinpoint which exact model the glasses he was wearing, but we've picked out one that is as close of a match as we could get.
This pair of sunglasses from ZHILE features a black metal frame with glasses that are almost blackish grey and look exactly like the one Murdock wore in his college days. Build quality on these is superb considering the price, they come with adjustable silicone nose pads for comfortable wear. The lens on these sunglasses is UV400 protected and the frame flexes to fit your face shape, not to mention the spring-hinged metal arms. All in all, this is an excellent choice if you want to buy a pair just like the ones worn on the TV show.
Final Thoughts
Well, there we have it, I've listed almost every kind of sunglasses worn in Netflix's Daredevil as Matt Murdock. From the Round Red ones (which are the most popular) to the ones he wore in college days while studying law with foggy, from the cheap knock-offs to the high-end ones and the look-alikes which some people may prefer. Pick which one fits your criteria and happy shopping.